Bristol RPZ: MP Dawn Primarolo voices resident concerns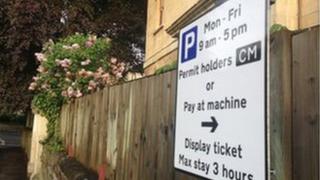 Bristol South MP Dawn Primarolo has written to the city's mayor voicing concerns about plans for a residents' parking zone (RPZ) in her constituency.
The Labour MP said people in Southville feel they have not been properly consulted about the proposal.
Mayor George Ferguson wants to implement a blanket rollout of parking zones over the next 18 months to halt commuter parking in city streets.
Ms Primarolo also said many people she has spoken to do not want the scheme.
The Southville zone is one of 12 being rolled out in Bristol over the coming year.
Under the plan, residents will have to pay £48 to park outside their houses for one car and £96 for a second permit.
Ms Primarolo said: "A number of constituents living in Southville have contacted me with their concerns about the imposition of a residents' parking scheme, including that the current consultation does not ask a simple yes/no question about whether residents want this scheme.
"I have written to the mayor on their behalf and I await his response with interest."
At present, parking zones operate in Kingsdown, Cotham and central areas of the city.