Bristol college announces dozens of redundancies to cut costs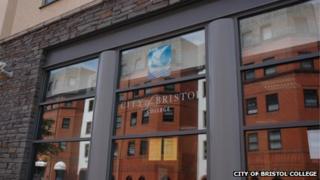 Up to 50 workers are to lose their jobs at the City of Bristol College as it is "feeling the financial pressures".
No teachers will face compulsory redundancy, the college says, but non-teaching staff will be cut from areas such as HR, finance and IT.
Some 1,064 teachers and 800 other staff are employed by the college, spread across multiple sites including College Green, Ashley Down and Soundwell.
Last February college bosses warned for the first time that jobs were at risk.
'A journey'
Principal Lynn Merilion said: "Like many organisations, City of Bristol College is feeling the financial pressures of a reduction in funding and it is right that we do what we can to make best use of the resources available to us.
"We have reviewed the ratio of teaching staff to non-teaching staff and identified areas of the college where we can reduce costs.
"We are on a journey to become an outstanding college with students at the heart of everything we do.
"As part of this journey we have made a commitment to invest our resources in teaching and learning; to ensure that our current and future students receive the best education and college experience."