Low-paid Bristol City Council workers set to get 'living wage'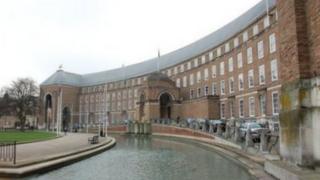 Hundreds of Bristol City Council's lowest paid workers are set to receive a pay rise.
Mayor George Ferguson has agreed to put aside £400,000 to deliver the so-called "living wage" to low-paid staff as part of next year's draft budget proposals.
About 600 staff currently earn less than the living wage's minimum rate of £7.65 an hour.
The move follows a campaign by the council's Labour group to make Bristol City Council a "living wage" employer.
The draft budget, which was finalised by the independent mayor on Thursday evening, still has to be agreed at a full council meeting on 18 February.
Helen Holland, leader of the Labour group, said: "We are very pleased to see this change, but we hope that the city council will go further and get the accreditation of Living Wage Employer so that we will know that all the contractors working with the city council are also paying the living wage."
Some groups and politicians have argued that the current minimum wage of £6.31 for the over-21s is not high enough, because it does not reflect the real costs of living.
The living wage is calculated by the Centre for Research in Social Policy at Loughborough University.