Mark Bradshaw Bristol's deputy mayor has bowel cancer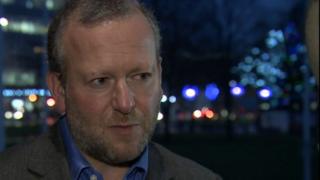 Bristol's deputy mayor has announced he is receiving treatment for early stage bowel cancer.
Mark Bradshaw, the Labour representative for Bedminster, said he wanted to explain his prolonged absence from his duties.
He has undergone surgery to remove a tumour, spending a week in hospital, and is preparing to have chemotherapy.
Mr Bradshaw also used his personal statement to urge anyone with symptoms to get them checked by a GP.
'Challenging time'
"Early diagnosis and treatment makes this a treatable and beatable cancer," he said.
"I am deeply grateful for the excellent care I received at the Bristol Royal Infirmary (BRI) from the surgical team, the specialist nurses and the nursing and care team on ward 18 and across the hospital.
"Like most people when it comes to health matters, I'm normally very private but I wanted my constituents in Bedminster to understand why I need to spend time recovering from surgery and to undergo this further treatment."
Responding to the news, Mayor George Ferguson, said: "Mark is a highly respected and hardworking member of council and of my cabinet and will be hugely missed during his absence.
"I greatly admire Mark's courage in the way he is dealing with this situation and, on behalf of council members and officers, wish him a full and speedy recovery. He has my full support at this extremely challenging time."
Mr Bradshaw's co-councillor, Colin Smith will handle his casework and during his absence. His cabinet responsibilities will be covered by the mayor with assistance from other members of council.