Avon and Somerset police jobs to change under shake up plan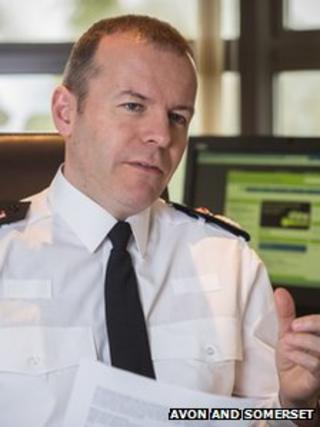 Seven in 10 police officers in Avon and Somerset will see their jobs change under plans for one of the biggest shake-ups in the way the force is run.
Chief Constable Nick Gargan said "big operational change" was inevitable as the force worked out how to make cuts of £47m from its budget by 2015.
The plans include fewer specialist squads, and a higher proportion of the reduced workforce out on the streets.
The Police Federation said members were "uncertain about what's going on".
Mr Gargan said: "Seven in 10 workers will end up working in a new place, working to a new boss and having a slightly different job, but that's what you've got to do when you're making the sort of financial savings we've been expected to make.
"The sort of changes we're making are having fewer bosses, fewer people sitting in the police station, and I'm hoping that with a shrinking workforce a higher proportion will be out on the streets to deal with things the day we hear about them, rather than passing it on to a specialist squad to deal with two or three days later."
Kevin Phillips, chairman of the Avon and Somerset branch of the Police Federation, said: "We don't know a great deal as yet but there are rumours about police station closures but no details - it's the unknown that is worrying."