Stuck Bristol swing bridge jammed in closed position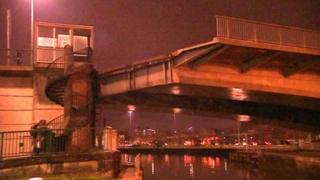 Engineers worked through the night to fix a swing bridge on one of Bristol's busiest commuter routes, causing disruption to motorists.
The Plimsoll Bridge, over the Cumberland Basin, was opened on Tuesday afternoon to allow a yacht through but then could not be shut.
During Tuesday's rush hour some motorists reported short journeys taking up to three-and-a-half hours.
At present the bridge cannot be opened to allow boats through.
It means for the "foreseeable future" the bridge remains stuck in the closed position.
'Spend big money'
A spokesman for Bristol City Council said it was thought a mechanical failure had caused an electrical fault.
"It's happened about four times in the past - and takes a while to get it back into action again.
"The bridge was wired up in the 60s and at some stage we are going to need to spend some big money on it to stop it happening.
"It will be the mayor's decision and we'll be looking over the next year at what the capital cost might be to fully refurbish the opening mechanism and electrics that go with it.
"The mayor will have to take a decision and balance it against all his other budget issues as to whether to do something about it and when."
The bridge was reopened at about 05:30 GMT.