Paris Vince-Stephens death: William Stephens jailed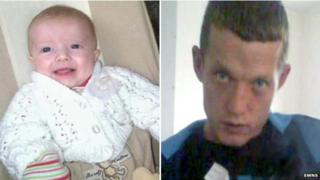 A father from Bristol has been sentenced to six years in prison for killing his 16-week-old daughter.
William Stephens, 25, was found guilty of the manslaughter of Paris Vince-Stephens, who died in January from "catastrophic and fatal head injuries".
She was either shaken or received a blow to the head, his trial at Bristol Crown Court heard.
Her mother Danah Vince, 19, was cleared on Thursday of causing or allowing Paris's death.
The parents had a "volatile" relationship, used drugs and could be violent, the court heard.
'Loss of temper'
Sentencing Stephens, Mr Justice Teare told him that even though his actions were spontaneous, and not premeditated, they did result in the death of Paris.
"You yourself describe holding the baby without supporting her head and shaking her," he said.
"The Crown's case was that you shook Paris after losing your temper with her.
"It is not known what she did that caused that loss of temper. You yourself said that she was crying and it may have been that.
"The dreadful result of your actions was that Paris died.
"This is a case where a loss of control has resulted in a fatal act of violence on a defenceless baby."
A serious case review is now being conducted by the Bristol Safeguarding Children Board with the results due to be published next year.