Date set for bus smartcards launch in Bristol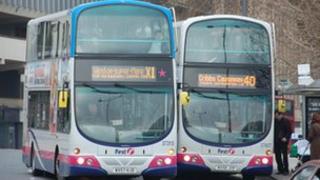 Smartcards for bus passengers on some services in Bristol will be introduced in February.
First Bus has confirmed that park and ride smartcard tickets, similar to London's Oyster cards, will be brought into use following a trial this month.
The scheme is expected to be rolled out for weekly and monthly passes in the city's inner and outer zones in April.
Smartcards in some other parts of the West Country are due to be introduced by next September.
Bristol City Council's assistant mayor, Mark Bradshaw, said: "We want a smartcard that offers flexibility and value to passengers so feedback from the trial will help us make essential adjustments before it is available to regular Park and Ride travellers.
"In future our aim is that smartcards will be used on all city buses and, eventually, the local train network."
Operators say each smartcard, which will be available for children, students and adults, can be topped up on the bus or at travel shops.
An online topping up service will follow at a later date.