Bristol City Council staff told of deeper cuts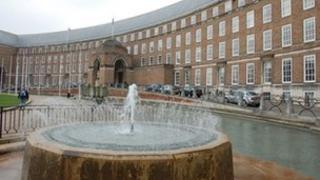 Some 8,000 council staff in Bristol have been told to brace themselves for deeper cuts than expected.
The authority wants to cut £90.6m from its budget, a quarter of its total spending, over the next three years.
Major George Ferguson had planned to cut £80m but says greater savings are needed, and council job losses would be "unavoidable" as a result.
The council's plan for making the cuts will be made public for a six-week consultation in November.
'Fast and deep'
Mr Ferguson said: "This will be a difficult budget, but I have to balance the books in the face of tremendous pressures from the falling government grant, coupled with increased demand for some services.
"We're looking at losing a quarter of our current budget: this will mean cutting deep and to a certain extent re-defining the role of local government."
He added that cuts would have to be "fast and deep" as the council "cannot afford to drag this out".
Once the public consultation has been completed, changes can be made to the plans before councillors debate the budget in February next year.