Cube cinema in Bristol pledged £90k by Arts Council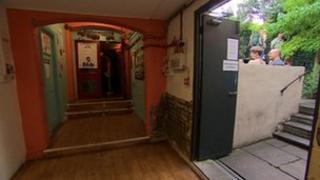 Arts Council England has pledged £90,000 towards saving an independently-run arts venue in Bristol.
The Cube's leasehold is due to expire and the 150 non-paid staff have until 31 December to raise £185,000.
Other established city venues are also helping to raise funds with the Bristol Old Vic hosting an event on Friday.
Arts Council money will be granted on condition the full amount is raised - so far almost £130,000 has been raised.
The cinema and music venue is located on the edge of Stokes Croft in central Bristol.
Cube volunteer Graeme Hogge said: "No-one involved in the Cube gets paid for the time they put in.
"Every penny that the public - the Cube's ultimate financial backers and owners - has contributed has gone towards meeting the target.
"The Arts Council money is a significant turning point - it is also a symbolic vote of confidence in us. We have until 31 December 2013 to get the rest."
Chiz Williams has been a volunteer since 1999 and has organised the fundraising event at the Bristol Old Vic on 6 September.
He said: "The Old Vic kindly offered us their venue to host Friday's event. The compere is actor Dudley Sutton. He has performed at the Cube but is probably more well known as Tinker in Lovejoy and his part in Eastenders."