Bristol Lord Mayor's Chapel bell tower works needed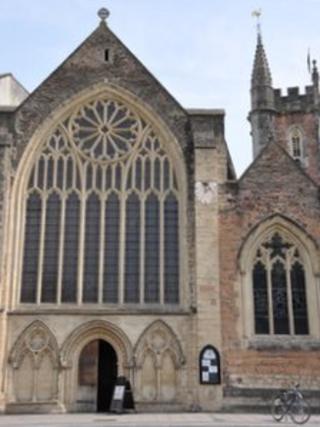 The frame holding six bells in one of Bristol's oldest church buildings is not fit for purpose, according to a survey by structural specialists.
The floor under the frame is unsafe and the inside of the bell tower dilapidated, the report on the Lord Mayor's Chapel, at College Green, said.
The council, which owns the chapel, is seeking permission to repair it.
The chapel already faces a £300,000 bill to overhaul its organ below the tower, which has hindered access.
The organ's temporary removal would make it easier to carry out repairs to the tower, the report said.
It is believed the tower has not been maintained for more than 100 years.
Grade I listed
Church bell engineers Matthew Higby and Company Ltd said: "It has to be remembered that this is a musical instrument which involves swinging excessively large lumps of bronze around above people's heads, using equipment which is in excess of 110 years old."
The chapel is Grade I listed and dates back to 1230, when it was built as part of Gaunt's Hospital. It is believed to be the only council-owned church in the country.
The bell tower dates from 1487 and has five levels accessed by a spiral stone staircase, which eventually leads to the roof.
The city council has now applied for listed building planning consent to repair the interior of the bell tower, install a new bell frame and re-hang the bells.
A heritage statement accompanying the application says removal and refurbishment of the organ later this year will give a "once-in-a-lifetime" access to the tower to enable repairs to be made.