Clifton Suspension Bridge: Traffic-calming measures proposed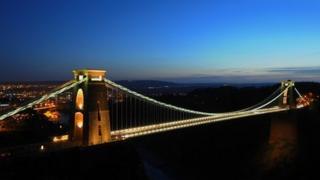 Plans to make the area around Clifton Suspension Bridge in Bristol more pedestrian and environmentally-friendly have been put forward.
Traffic-calming measures for the approach roads are proposed to maintain the traffic flow.
A coach drop-off bay would be built on nearby Observatory Road, with speed tables to help people cross the road.
The junction of Sion Hill and Suspension Bridge Road is also proposed to be modified to improve access.
Land needed from the Downs green space for the coach bay would be recovered by building-out a nearby junction.
Detailed plans of the proposals will be shown at two public exhibitions where design engineers can be questioned.
'Foot down'
They are due to take place on 13 July on Bridge Road and 3 August at Clifton library.
Bridge Master David Anderson said one of the main problems was speeding motorists.
"Once they've crossed the bridge it tends to be foot down... the speed of those vehicles accelerating away tends to be a big problem, particularly for pedestrians.
"[Engineers] have come up with a scheme for both approach roads which will slow that traffic down to a more appropriate speed.
"[Motorists] won't be held up, these measures aren't designed to reduce the capacity for traffic at all - any queues or delays won't be any longer - it will just allow people to drive a little slower," he added.