Jake Milton: Walk in memory of Bristol stabbing victim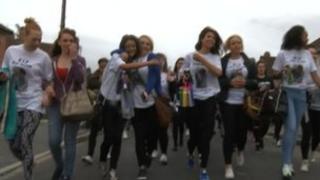 The family and friends of a teenager stabbed to death in Bristol have led a walk in his memory.
Jake Milton, 17, was attacked on the corner of Newquay Road and Crossington Road in Knowle West on 14 June.
Mr Milton's relatives carried buckets with pictures of him on and collected donations to pay for a plaque or bench in his memory.
Nathan Warburton, 19, and Lewis Talbot, 18, have been charged with his murder.
Mr Warburton, of Leinster Avenue, Knowle West, and Mr Talbot of Kenmare Road, Knowle West, are next due before Bristol Crown Court on 9 July.
Mr Milton's family were joined by about 200 people, some of whom wore T-shirts with "Rest in Peace Jake Milton" printed on them and carried pictures of the teenager.
The walk was organised by Mr Milton's cousin, 15-year-old Nicole Morris.
"We've been really pleased with the amount of people that have come," she said.
"You know how many people actually respect him. He used to hang around in Knowle West and Bedminster and they used to call him a 'true Wester'.
"He would always have a smile on his face, he was always happy and bubbly and always out with his friends. He just looked out for everybody."