Plans for solar powered Bristol described as 'over ambitious'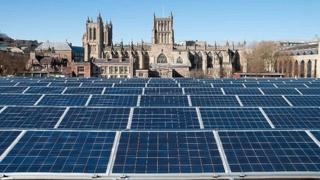 Plans to install solar panels to power every Bristol home have been described as "over ambitious" by an expert.
Bristol Solar City, with the support of the council, wants to install 1 GW/h of solar photovoltaic panels - enough for about 200,000 homes - by 2020.
James Lancaster from Solar City said just in the city centre there was space to generate 700 MW/h, 70% of the total.
But Dr Stuart Shales questioned the figures and said current technology was not efficient enough for the proposal.
'Figures disputed'
Dr Shales, who is a senior lecturer at the University of the West of England (UWE) in world energy demands, said although an interesting concept, he had his reservations.
He said the idea was "technically possible" but he believed it would take 19 sq miles (50 sq km) of south-facing roof to produce 1GW/h - a figure disputed by Bristol City Council which says it would only need 2.08 sq miles (5.4 sq km).
"Regrettably at the moment most photovoltaic systems are only about 15 to 25% efficient," Dr Shales added.
Plans to make Bristol completely solar powered in the next seven years were revealed by the city's elected mayor George Ferguson.
He was speaking at the launch of a Bristol Solar City, a three-day event which aims to see Bristol become the UK's solar capital
'Gigawatt possible'
According to Mr Lancaster, the event is "not about selling solar panels" but to "put information in front of people so they can take informed decisions".
"We have looked at what the potential for installing solar energy generation in the city is - we're talking roofs in the city, domestic, commercial, council - and if you look at the greater Bristol region a gigawatt is possible," he said.
"That is enough to provide the energy needs, the full energy needs of 200,000 homes.
"Solar energy realistically is never going to provide all the needs but it can form an important component of the energy for about 700,000 to 800,000 homes."
In 2012, the authority published a 'Solar Map' showing people living in Bristol how suitable their homes were for solar panels.
It has also installed photovoltaic panels on a number of schools across the city.