Bristol Rovers kit man Roger Harding dies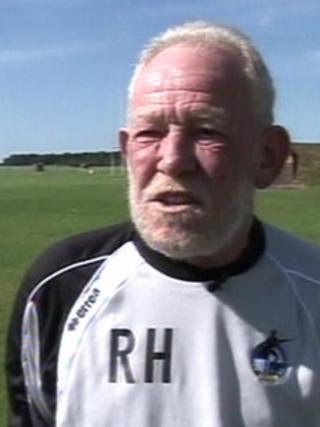 The Bristol Rovers kit man whose "death" was mistakenly announced by the club earlier in the month has now died.
Roger Harding, who had worked at the League Two club for 11 years, died in the early hours of Wednesday, a statement on the club's website said.
A Bristol Rovers spokesman said everyone at the club was devastated.
At the time the incorrect news of his death was put on the Rovers website, Mr Harding - known to fans as Uncle Albert - was seriously ill in a hospice.
The mistake prompted fans to vent their fury against the club on forums and using social media.
In its subsequent apology the club admitted the information it had been given "was not correct".
'True Gashead'
On Wednesday supporters took to the club's fans' forum to pay their respects to Mr Harding.
"Very sad news about Roger. RIP Uncle Albert," fan GasBS7 wrote:
"A true Gashead through and through and we sorely missed by us all. Thoughts are with his family at this tough time."
Another fan, mehew magic, said it was awful news.
"It genuinely won't be the same without seeing Uncle Albert walk around the pitch by the Blackthorn [stand].
"It's such a shame he =never got to see another season, and hopefully a promotion season at that.
"Our thoughts are with his family and close friends."