More time for Bristol's controlled parking zone talks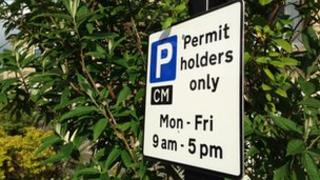 Residents and businesses in Bristol are being given more time to have their say over plans to introduce a residents' parking scheme over much of the city.
Mayor George Ferguson wants to introduce 18 residents' parking zones (RPZ) within the next 18 months.
He said he was prepared to adjust the scheme and new proposals would be put forward for consideration in June.
Earlier this week Mr Ferguson was heckled when he met 200 traders at City Hall to discuss the expansion plans.
The controversial scheme is designed to stop commuters from parking in residential streets during the day to help reduce congestion in the city.
An e-petition hosted on the city council's website has more than 3,000 people calling for the scheme to be halted.
Once any e-petition reaches 3,500 the council promises it will debate the matter.
Michael Owen, who started the petition, said he felt Mr Ferguson was running the risk of making himself very unpopular and called on him to drop the idea.
He questioned why the mayor was in such a hurry to rush through a measure which could make things "incredibly difficult" for some people.
"Many people are still in the dark as to how it would affect them.
"It's very hard to see how any small business can work in the RPZ area and will make it almost impossible for some people," he added.