Bristol ferry company hoping to raise £250,000 with share offer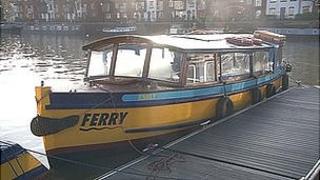 A ferry company in Bristol is hoping to transfer its boat fleet to community ownership by launching a share offer.
Bristol Ferry Boat Company went into administration last year but its five blue and yellow passenger boats were bought by a consortium of investors.
Now the consortium is hoping to raise £250,000 to launch the service as a community-led transport system.
Mark Tucker, a founding member of the company, said without the funds the service would "simply cease".
Shares, starting at £100, were floated by the newly created Community Benefit Society at an event earlier and will be available until the end of July.
Mr Tucker said it was an opportunity for people to co-own an enterprise which had been "a part of the Bristol dock scene for many decades".
"The new Community Benefit Society will have no bank debt, it is run by experienced ferry operators and we believe that this is the best possible foundation for sustainable success," he added.
According to a spokesman, the co-operative will run five ferries on the city's Harbourside on regular time-tabled services, 364 days a year.
Ruth McLellan, from Bristol Ferry Boats, said: "It means that people have a say. People who have an interest in the company can have a vote in what happens.
"This is supposed to be part of Bristol and it's supposed to be a service for a community".
Two other ferry services currently operate in the city.