Bristol mayor heckled by traders over parking plans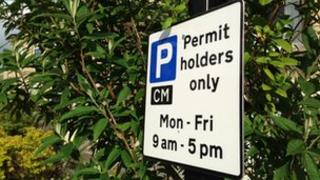 Bristol's mayor was heckled when he met some 200 local traders to discuss plans to expand parking zones in the city.
George Ferguson was interrupted and jeered at Wednesday's meeting at City Hall by people demanding to know how they will be affected.
The independent mayor wants to introduce 18 residents' parking zones (RPZ) within the next 18 months.
Mr Ferguson said he was "prepared to put up with the flak" as Bristolians would "see the benefit in the end".
'No buses'
The scheme is designed to stop commuters from parking in residential streets during the day, to help reduce congestion in the city.
But Dominic Arnal, from the Bread Store on Gloucester Road, said: "I have an issue getting my staff into work at 3am. They say use community travel, but there are no buses."
The mayor's response to Mr Arnal's concerns resulted in loud jeering from the audience.
Mr Ferguson replied: "I think this will result in cultural change. It will result - in time - with people living closer to where they work."
Ben Blackwood, bursar at Redland High School for Girls, said the school employed hundreds of staff and would need more than the two permits on offer.
'Years of dithering'
Bristol Zoo also says two permits will not be enough as it employs hundreds of people. It also has fears about where visitors will park.
The mayor said the city had been "dithering for years and years and years" about the issue.
He said: "We've had this annual election process which means that everybody gets scared as soon as there's any opposition and they don't do anything.
"That has brought virtual paralysis and I'm here to undo that paralysis."
Dan Stern from the Fish Shop on Gloucester Road said: "I think this could be George's poll tax moment. Residents don't want this, traders don't want this."
Residents in areas where parking schemes have already been introduced are paying £30 a year for their first car and £80 for a second vehicle.