Bedminster Down pupils praised for Ten Tors river rescue
13 May 2013

From the section

Bristol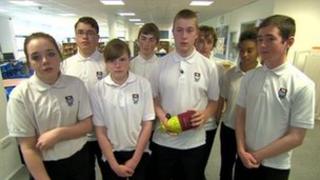 Pupils from a Bristol school have been praised for rescuing a girl from a swollen river during the Ten Tors Challenge, on Saturday.
The teenagers from Bedminster Down School were competing in the event on Dartmoor in Devon that sees teams trekking up to 55 miles (89km).
They used a throw-line to help the girl who had fallen into the river between the third and fourth Tor.
Headmaster Gary Schlick said he was "immensely proud" of the group.
He said: "I think it's how you hope the students would behave if they were in that sort of situation."
One of the group, Max Alford, 15, said: "She went hypothermic really, really quickly. We had to get her out."
Medals for 'spirit'
After the girl was pulled from the river, the group, with the use of a guide rope, spent several hours helping dozens of other competitors across the river.
The delay meant they were unable to cross the finish line in time, but were rewarded with medals by organisers for encompassing the spirit of the event.
Stephen Priday from the school said the Ten Tors director, Brigadier Piers Hankinson told him the group's bravery, teamwork and concern for others was "exactly what the Ten Tors was all about".
Another team from Bristol, the Queen Elizabeth's Hospital School for Boys, was the first to cross the finish line at about 09:30 BST on Sunday.
More than 2,400 teenagers took part in the challenge, with the majority from schools and youth groups in the south-west of England.