Gay rugby Union Cup 2013 hosted by Bristol Bisons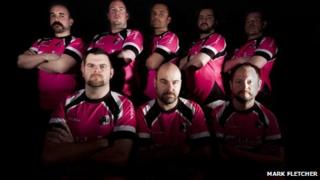 Seventeen gay rugby teams are set to descend on Bristol as the city prepares to host the Union Cup 2013.
Teams from across Europe including Stockholm, Berlin, Lisbon and Amsterdam will be arriving for the amateur gay rugby tournament on 23 May.
Bristol Bisons RFC are the hosts of the fifth biennial Union Cup.
The club won a bid to host the event two years ago and organisers say they have been busy "schmoozing" and "trying to create a buzz" for the last 12 months to make it the biggest event yet.
Tournament director David Aird, who has played for the Bisons for about three years, said it was difficult to get men involved in what is still seen as "a very macho sport".
He said many of the team members joined in their 30s having not picked up a rugby ball since their school days and about 70 of the rugby players attending the tournament are in their 40s and 50s.
'Put off' sports
Mr Aird, 39, said: "In standard rugby clubs, the chances are they've played for more than 20 years. I would never have joined a straight rugby club - I turned up here when I was 36.
"There's an unusual demographic because of the standard of the rugby and some people take it more seriously than others, but because of the standard there are a lot more social teams.
"At school it's seen as quite a macho sport. I was being bullied about being gay before I even knew I was gay at school.
"It puts people off joining a club and [taking part in] competitions as well. I wouldn't imagine it's a welcoming atmosphere."
Team mate Mark Fletcher, 35, agreed.
"When we are introduced to sports at school it is often at a time where young gay men are struggling with their identity," he said.
"With the strong 'masculine' identity of sports, for a young gay man who is unsure of his own identity it is often difficult to fully engage.
"I thought for years that I was terrible at sports but I have finally worked out that I'm not actually bad at all and I really enjoy it.
"I was simply put off at an early age, knowing I can turn up to the team and be myself has been a way into sports which I otherwise wouldn't have had."
Straight players
The Bisons describe themselves as an "inclusive" team and welcome straight players.
Chris Nock, one of two straight players currently on the team, joined in 2011.
The 33-year-old personal trainer said: "It's something I always wanted to do, but I hadn't played since school.
"Some players have left to join other teams, but I want to show loyalty to my team mates who I've been out on the pitch with.
"It's a really physical game so if you've got a 20 stone prop trying to run through you, sexual preference makes no difference.
"If you've felt you haven't got on at other clubs because of your religion, the colour of your skin or sexual preference - nobody judges you here.
"It doesn't matter if you've been playing for 20 years or you've never picked up a rugby ball before, there's all ages and sizes."
Mr Nock added they were "just like other rugby clubs, looking for games to play".
'Less homophobia'
Mr Aird said some members had previously found it awkward in the changing room when they had played for straight teams.
"It's difficult to be yourself and say 'I was out with my boyfriend last night', when the others are talking about their girlfriends."
"In three years I've experienced one incident of homophobia from a local rugby team. It is there, definitely, but it is getting better."
Mr Aird said 550 players and their supporters were expected to attend the Union Cup, up from the 300 players who attended the previous event in Amsterdam in 2011.
The tournament starts on 23 May, followed by two days' of matches at SGSC Wise Campus in Filton.
He said it was expected to bring at least £250,000 to the local economy, based on each visiting player spending about £400.
Mark Mulcahy, 33, who joined the team to improve his fitness and meet new people when he moved to Bristol from Northampton, said he thought the event would benefit the city as well as the team.
"This is quite an important fixture, we'll meet new people and forge new links.
"Lots of European players will never have been here before and Bristol has a lot to offer in the way of tourism."
The city council also welcomes the tournament.
Peter Holt, the authority's communications director, said: "The council is always keen to support diverse and varied organisations where it can and this event provides a really great opportunity to promote sport in the city."
The tournament is also supported by South Gloucestershire and Stroud College, South Gloucestershire Council, Destination Bristol, the Gloucestershire Rugby Football Union and the RFU.