Bristol 'Bearpit' sculpture marks area's regeneration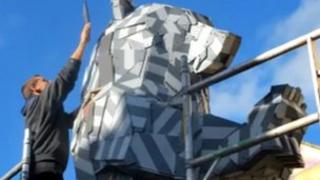 A 12ft (3.5m) bear sculpture is to be unveiled by Bristol mayor George Ferguson to signify the regeneration of a run-down area of the city.
It is part of improvements to the "Bearpit" at St James Barton Roundabout, which links Stokes Croft and Broadmead in the city centre.
The bear, nicknamed Ursa, has been created by local artist Jamie Gillman.
The People's Republic of Stokes Croft and The Bearpit Improvement Group project is funded by the Arts Council.
The sculpture, which took 10 months to create, is made from metal and wood, and designed to withstand all weathers.
Bearpit Improvement Group director Chris Chalkley said: "For me, the sculpture is a symbol of the 'bottom-up' approach to regeneration which the Stokes Croft and Bearpit area is increasingly renowned for."
The area, which was built after World War II, has long been blighted by crime and anti-social behaviour.
It is now managed for the community by the Bearpit Improvement Group, which has helped improve the area by covering over subway walls with specially commissioned graffiti, and planted bulbs and flowers.