Bristol City Council: Labour in cabinet talks with mayor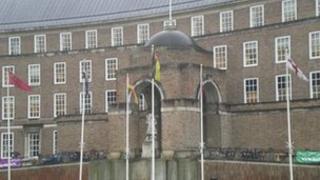 Labour councillors in Bristol are in talks with the mayor about joining his cross-party cabinet after their party refused to join when he was elected.
In November, Labour's National Executive Committee blocked councillors from taking part in the cabinet but is now allowing them to negotiate.
Labour also claims to have now secured voting rights for cabinet members.
Mayor George Ferguson said he hoped all four parties would let their members join his cabinet.
'Political haggling'
He said: "But let no-one be in any doubt, the buck stops with me, and I will take personal responsibility for all major decisions, not subject them to party-political horse-trading and binding votes in cabinet.
"If that means that from time to time cabinet members disagree with one of my decisions where we can't reach a consensus, that is fine, and I will respect their right to speak out publicly against it at open cabinet.
"I have no intention of turning back the clock or reinstating a new version of year-round party political haggling over decisions that I was elected personally to take."
Helen Holland, leader of the council's Labour group, said : "We want to make the cabinet positions more accountable, supporting the mayor wherever we can.
"And challenging him when that is appropriate."