Local elections 2013: Lib Dems lose nine seats in Bristol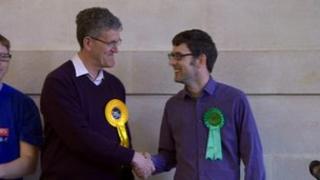 Bristol's Liberal Democrats have lost nine seats in the local elections, leaving Labour with the most seats.
The biggest casualty was former mayoral candidate Jon Rogers who lost Ashley to Rob Telford of the Green Party.
Daniella Radice also won Bishopston from the Lib Dems for the Greens, who now have four seats on the council.
Early figures indicate the turnout was 27.5% - described by the returning officer as "disappointing".
Henleaze ward had the highest at 43.4%, and Cabot Ward the lowest at 17%.
'Shaken up politics'
Returning officer Zillah Morris said the overall average was on a par with the police and crime commissioner and mayoral elections last November.
"Unfortunately, it is down about 11% from 2009 for the equivalent wards," she added.
Labour gained six seats and have become the largest party on the city council.
Labour leader Councillor Helen Holland said: "It feels great - we've had a fantastic field of candidates this time and they've worked their socks off establishing relationships with the communities they aspire to represent and that has been paid back."
Bristol now has its first Somali-born councillor, Hibaq Jama. She won Lawrence Hill for Labour by about 1,000 votes with UKIP coming a distant second.
Stephen Williams, the Liberal Democrat MP for Bristol West, said: "In small towns and rural areas people have voted for UKIP. This didn't happen in Bristol.
"The established parties have to re-engage with the city.
"The people of Bristol chose to have an elected mayor and then they elected an Independent to be mayor - that has shaken up politics in Bristol."
The results leave Labour with 28 council seats, the Lib Dems with 23, the Conservatives with 14, Green Party with four, and one Independent councillor.
Bristol elects a third of its councillors at a time, but from 2016 will switch to all-out elections to be held every four years.
404 - Page Not Found
This might be because you typed the web address incorrectly. Please check the address and spelling ensuring that it does not contain capital letters or spaces.
It is possible that the page you were looking for may have been moved, updated or deleted.
Please click the back button to try another link.
Or