Local elections 2013: Polls closed in Bristol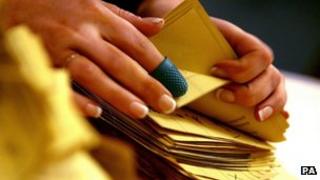 Polls to elect new city councillors in Bristol have closed.
Bristol elects a third of its councillors at a time but decided recently to switch to all-out elections, to be held every four years, in 2016.
A total of 122 candidates are fighting for 23 seats across the north, west and east of the city.
Polls opened at 07:00 and closed at 22:00 BST. Counting begins on Friday with the results expected by 16:00 BST.
404 - Page Not Found
This might be because you typed the web address incorrectly. Please check the address and spelling ensuring that it does not contain capital letters or spaces.
It is possible that the page you were looking for may have been moved, updated or deleted.
Please click the back button to try another link.
Or