Campaign to protect bust allotment in Bristol from development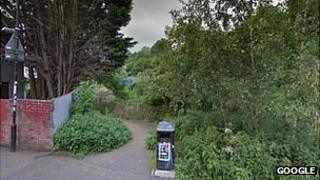 Plot-holders on an allotment in Bristol are campaigning to save the land from development after its owner went bust.
The site, at Lynmouth Road in St Werburgh's, was owned by Scout Enterprises Ltd before it went into administration last year.
Allotment holders are worried they will be evicted from plots that have been worked "off and on" since World War I.
Administrators said they have a duty to the company's creditors to "realise any value" they can for the firm's assets.
Scout Enterprises Ltd, which provided support work facilitators to people with disabilities, went into administration last year, making about 100 of its employees redundant.
In October, Grant Thornton UK LLP was appointed as liquidator.
'In the dark'
Since then, according to Val Bamber, the treasurer of the Lynmouth Road Allotments Association, allotment users have been "in the dark about what might happen".
She said: "We're tried to keep the lines of communication open and there seems to be a lot of support around the area and from the local council but as far as the liquidators go we haven't heard from them and what their plans are yet.
"It's been worked as allotments off and on since the First World War and obviously we're worried about the future of the land.
"We don't know whether it will be sold or put up for auction and so we're really concerned."
A spokesman for Grant Thornton said they were currently taking advice as to the "responsibilities and options regarding the land on which the allotments are located".
He added: "The land is an asset of the company and we have a duty to the creditors of the company, including its ex-employees, to realise any value we can for the company's assets.
"While we appreciate the allotment users' concerns, we need to fully understand the company's position before we can make an informed decision on what to do with the land."
A demonstration, organised by the Lynmouth Road Allotments Association, is due to be held at the site later.