Bristol mayor wants Thatcher legacy debate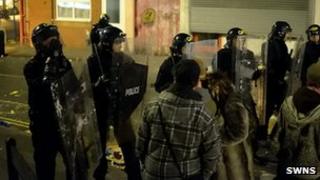 Bristol's mayor has said he wants to talk to people who held a street party celebrating Baroness Thatcher's death which resulted in clashes with police.
George Ferguson said despite "strong feelings about her legacy" the party in Chelsea Road, Easton, on Monday night was "totally inappropriate".
Community activist Hannah Purbrick said people would be open to meeting him.
Two men, aged 32 and 35, who were arrested on suspicion of violent disorder, have been released on bail.
'Really angry'
Mr Ferguson said: "I think it's very sad. I know there were strong feelings about the Thatcher legacy and I remember getting really angry about some of the things she did.
"It's worse than dancing on her grave. That aggressive behaviour is just an excuse for trouble. I'd like people to come and debate the legacy of Thatcher - after her funeral.
"I think Bristol is a great city of debate and ideas. Come and voice your concerns but don't use violence as a tool."
Ms Purbrick, 47, who lives in Easton and was at the event on Monday, said it would "be easy to engage with people in Easton".
She said a meeting could be set up at the Easton Community Centre "as long as the council was open to people's views".
She said: "The celebration was representative of how quite a few people in Easton feel. Easton is not a particularly affluent place and reflects a wide cross-section of the community - including people from other countries.
"Many of the people were politically active during the time of the Thatcher government and its policies.
"People feel very strongly that Margaret Thatcher stood for the division in society and we are trying to fight against it."
The mayor said a debate on Lady Thatcher's legacy had now been added to Bristol's Festival of Ideas taking place in mid-May.
He said he hoped local people would join in with the discussion and said "national figures from the left and right" would also be invited.
Police said that the seven police officers who were reported to have been hurt during the gathering had all recovered from their injuries.