MoD sells off sites in Bath for housing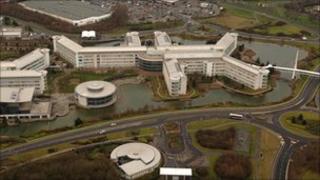 Three Ministry of Defence sites in Bath earmarked for housing have been sold to developers, the MoD has confirmed.
Sites at Ensleigh, Warminster Road and Foxhill were closed by the MoD in a bid to save £39.5m over the next 15 years.
About 1,400 staff have been relocated to Abbey Wood in Bristol as part of a "complete vacation of Bath".
Martin Lloyd, from the Defence Infrastructure Organisation, said it was "committed to ensuring the military estate is no larger than necessary".
He said: "We continually examine ways of improving military capability and value for money for the taxpayer.
"As part of this approach, we keep the size and location of bases under constant review."
'1,000 new homes'
A public consultation on the redevelopment plans for the three sites was carried out last year.
Bath and North East Somerset Council has said 11,500 new homes need to be built by 2026 and the land is being earmarked for the new estates.
According to the authority the three former MoD sites, covering almost 89 acres, can "deliver well in excess of 1,000 new homes".
The three sites have been purchased by social landlord Curo, developer Square Bay and a subsidiary of IM Properties Plc.