Ashfield sex offenders plan safety guarantees sought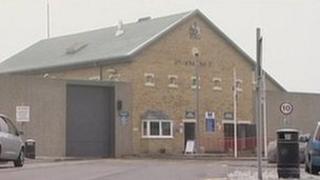 Guarantees for the safety of a rural community have been demanded if plans to turn a young offenders institute into a jail for sex offenders go ahead.
A motion put to South Gloucestershire councillors seeking assurances from the National Offender Management Service (NOMS) was carried unanimously.
Councillors are angry there was no public consultation on the plans.
The proposal would see a Category C facility in the former Ashfield Young Offenders Institution in Pucklechurch.
"There has been extensive concern in the community," said Councillor Ben Stokes.
A local opinion survey showed more than 60% of respondents did not want the change to an adult prison.
'Steam-rollered'
"We're seeking assurances about safeguarding the community in the form of guarantees if the change does happen," said Mr Stokes.
"We're also challenging the government to ask if they've thought what else they could do - do they have to make this change?
"We could keep the young offenders institute and take more youth offenders from elsewhere in the country to make up the numbers."
Councillor Steve Reade said the community had been "steam-rollered" and presented with "a done deal before that was even the case".
"We're not satisfied with the answers we've been given," he said.
"We've been told prisoners will be escorted to train or bus stations on release but if they want to make the journey themselves they can do that or they can settle in the community.
"If the offenders get work placements, where are they going to have these?
"There's a children's play area just down the road and a primary school with children walking to and fro past the prison," said Mr Reade.
A further meeting to discuss concerns raised by the community in response to the plans has been scheduled for 16 April.