Southmead Hospital plans £4m cancer centres
13 March 2013

From the section

Bristol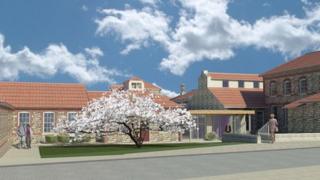 Plans have been submitted to build two cancer centres on the Southmead Hospital site.
A Breast Care Centre and the first Macmillan Wellbeing Centre to be built in Bristol will cost around £4m.
North Bristol NHS Trust has submitted the plans for both centres which, if approved, will open in 2014.
The centres, which will be built within historic Beaufort House, aim to help people affected by all cancers, their families, friends and carers.
'Focal point'
The Breast Care Centre will provide screening, diagnosis and after-care support for patients.
Dr Mike Shere, lead breast care clinician specialist at North Bristol NHS Trust, said: "The new breast care centre will provide a focal point for all breast cancer patients requiring the support and management from the breast team, from point of referral through to follow-up and support, all under one roof.
"We have worked very hard on these plans with our patients, clinicians and support groups and what we have come up with will be a functional, light and spacious building where patients can feel supported and relaxed."
The Breast Cancer Unit Support Trust (Bust) - a charity founded by patients for patients - have been consulted at each stage of the planning process.
Jenny Wookey, trustee of Bust, said: "We believe that many of our comments were taken on board and that they will be reflected in the formation of an excellent centre offering patients everything that they could hope for."
The Macmillan Wellbeing Centre will stand alongside the Breast Care Centre.
It will be the first dedicated Macmillan service in Bristol and provide emotional, practical and financial support for people before, during and after a cancer diagnosis.
Ed Murphy, senior Macmillan development manager said: "We are very excited about this new development which will improve the lives of people living with cancer in Bristol.
"Being diagnosed with cancer is one of the toughest things that anyone can face and no-one should face that alone.
"This new Macmillan Wellbeing Centre means that, for the first time in Bristol, there will be a dedicated place for all the additional support that people need when they are diagnosed with cancer, both to help them through treatment and then to help with returning to a normal life afterwards, whatever that may mean for them."
Macmillan Cancer Support has pledged £1m for the Macmillan Wellbeing Centre.