Bridgwater river walls repair costs reach £1.8m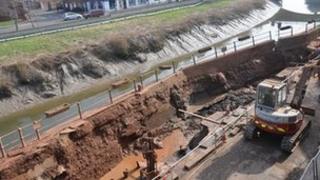 A project to repair a flood-damaged river wall in Somerset is set to cost £1.8m, the county council has said.
Part of the river wall at West Quay in Bridgwater collapsed after heavy rainfall on 5 November 2011.
Somerset County Council has said the costs have risen due to a 10-week delay in the project caused by the heavy rain in recent months.
Additional repairs have also been made at Town Bridge and East Quay as part of the whole wall repair project.
The county council has said it expects to complete the entire project by the end of May, depending on weather conditions.
Nineteen properties had to be evacuated when the river wall collapsed just over a year ago.
An independent report found a combination of factors led to the collapse but no single agency or event was to blame.
The report also said the wall was "already on the brink of collapse" before the rain.