Louise Cox charged over tandem crash deaths case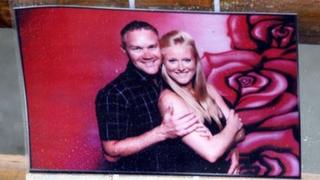 A 35-year-old woman has been charged with perverting the course of justice after the deaths of a Bristol couple who were knocked off their tandem bike.
Ross Simons, 34, and his wife Clare, 30, died at the scene of the crash in Hanham on 27 January.
Louise Cox from Oldland Common is due to appear before North Avon magistrates on Monday.
Nicholas Lovell, 38, remains in custody charged with two offences of causing death by dangerous driving.
Mr Lovell, of West Street, Oldland Common, has also been charged with driving while disqualified, driving with no insurance and failing to stop at the scene of a collision.
The car allegedly involved in the crash was being followed by police at the time of the incident.
A joint funeral was held for Mr and Mrs Simons, who had been married for about 18 months, on 15 February.