Flexitime option 'could cut congestion in Bristol'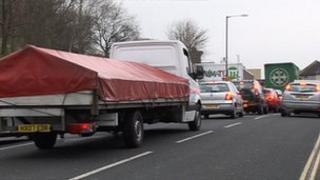 Workers in Bristol could be offered flexible hours in an attempt to reduce the city's congestion.
It is one of the ideas to be discussed by the Bristol Institute of Directors - a group which represents hundreds of small and medium firms in the city.
The institute believes the answer to cutting jams lies in long-term planning rather than short-term fixes.
Fiona Hallworth, from Bristol IoD, said it is all about changing mindsets.
She said: "Commuting via car creates more users on the roads and people are having to travel further for work.
"We need to find clear creative ideas about how firms can get their goods from A to B and on time."
A meeting at Bristol's M-Shed on Tuesday evening will hear suggestions from transport leaders from the greater Bristol area.
It is hoped the results will influence strategic transport planning over the next 10 years.
"Getting all the industry leaders in the same room has not been done before and will provide some interesting ideas for the future ," Ms Hallworth added.