Bristol Rovers' Sainsbury's bid held up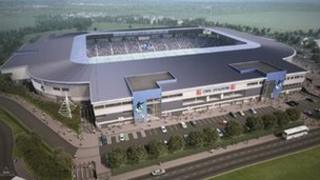 The government wants more time to consider an bid to build a supermarket on a football ground in Bristol.
Sainsbury's plans to build the store at the current site of the Memorial Stadium in Horfield were backed by Bristol City Council in January.
Bristol Rovers Football Club needs to sell the ground to fund a move to a new stadium at Stoke Gifford.
Communities secretary Eric Pickles wrote to the council saying he needed more time to consider the application.
Campaigners against the plans claimed the "car-centric development" would have a detrimental impact on local businesses on nearby Gloucester Road, air quality and traffic congestion.
The redevelopment of the Memorial Ground site will include the demolition of the stadium and existing buildings and the erection of a food store along with 65 houses and apartments.
Bristol Rovers said the decision was now likely to be made by 5 March.