Bristol bus fare campaigners hopeful of council debate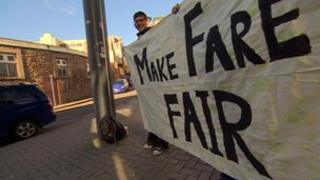 Campaigners urging bus firm First to reduce fares in Bristol hope they can get the issue debated by the council.
A petition by Make Fares Fair has attracted more than 3,500 signatures on the government's e-Petition website - including city mayor George Ferguson.
Bristol City Council has pledged to debate petitions with more than 3,500 signatures on its own website.
Despite the petition not being hosted by the council, the BBC understands the issue is "likely" to be discussed.
Daniel Farr, who started the campaign, said he had met with elected mayor George Ferguson and the MP for Bristol North West, Conservative Charlotte Leslie, earlier in the week.
'Often contentious'
Among the items discussed were how to improve competition between the city's other bus operators and the introduction of a "smart ticketing" system similar to London's Oyster card, which would work with different providers.
"I'd like to see a significant reduction in fares - both in the city and the greater Bristol area," Mr Farr said.
"One of the ideas I'd like to suggest to First is that they experiment with a flat fare of say £1.50 on a couple of its routes."
First said it acknowledges its fares "have often been a matter of public concern" and it will be inviting participation from bus passengers, the public, local MPs, councillors, and the mayor as part of a public consultation.
A spokesman said it was aware the issue of its fares in Bristol has "often been contentious".
But he added it also wanted people to "better understand" the economics of running a bus service.
A Bristol City Council spokesman said it was in discussion with Mr Farr to set up a fresh petition on the council website.
"Daniel met with George Ferguson and MP Charlotte Leslie on Monday and now we're working with him to get the wording of the petition right," he said.
"The council remains very much in discussion with him."