Bristol Harbour Festival organiser announced
19 February 2013

From the section

Bristol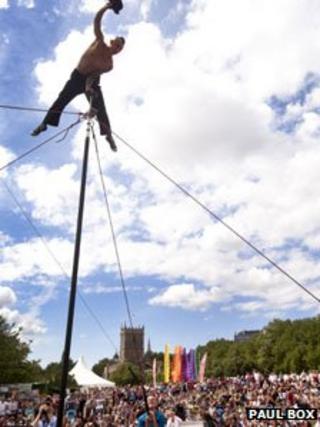 A Bristol-based management company is to run the city's weekend-long Harbour Festival for the next three years.
The city council deal, worth £160,000 a year, will see the "very experienced" Richmond Event Management organise the event from 2013 to 2015.
The Prince Street-based company also ran the event in 2012, after the contract was put out to tender.
Liberal Democrat councillor Simon Cook signed off the partnership and said the company was a "very safe bet".
He said: "They will be far more relaxed about it and they will be able to look to try and bring cost efficiencies in to it, therefore we get more for the money that we put in.
"I think it's a good idea always, if you're going to outsource these things, to give people a good crack at it, so that we can get the best of all worlds."
'Develop ideas'
The company has already hosted the Bristol International Balloon Fiesta, Bristol's Half marathon and Bath Christmas Festival.
Richmond Event Management's managing director, Mike Richmond, said the company was "delighted" to have won the three-year contract.
He said: "It allows us to develop ideas, local relationships, as well as engage with potential sponsors.
"The Harbour Festival reflects so positively on the city that we work in and it holds a special place in the hearts of the tens of thousands of people who have visited over the years."
The festival was established in 1971 - when it was known as the Water Festival - and regularly attracts more than 250,000 people over the weekend.
The 2013 event will run from 26 to 28 July.
The festival celebrates Bristol's heritage, the city centre harbour and waterfront areas as well as its artistic community and green credentials.