Bristol's first youth mayors announced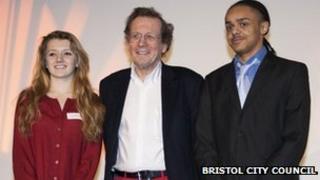 Bristol's first youth mayors have been announced.
Ramal Royal and Issi Trout, both 16, were voted in following Bristol's Big Youth Vote.
Their roles will include advising Bristol Mayor George Ferguson on decisions affecting young people, attending meetings and accompanying him to events.
Bristol joins London and North Tyneside as the only places in the UK with youth mayors.
Issi, a student at Redland Green School, said her priorities were affordable bus travel for young people and to combat bullying and discrimination.
Ramal, from St Brendan's Sixth Form College, said he wanted an equal wage for young people and to "ensure anyone from an under-privileged background gets the same opportunities as everyone else".
Mr Ferguson said: "The aim of the youth mayors is to bring young minds and young thinking to everything the council does from transport to care for the elderly."
The city's Big Youth Vote gave young people the chance to vote for 28 new members of the Youth Select Committee and saw 8,800 vote at polling stations in 57 secondary schools and youth centres across the city.
Those committee members then voted for the two young mayors by internal ballot.