Bristol City Council's budget cut options are revisited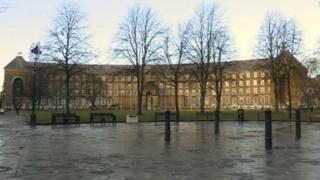 Plans for a swimming pool and a household recycling centre in Bristol have been deferred for a year as the council seeks to balance its books.
In January mayor George Ferguson unveiled his budget proposals but a working party was set up following community concern over some proposals.
The council members looked at three areas which were identified - capital spending, community safety and housing.
Bristol City Council has to make savings of £35m - 9% of its budget.
PCSO funding
Mr Ferguson said he accepted that the proposed Bristol East pool and Hartcliffe household waste centre should be deferred for 12 months to allow for a review of costs and financing options.
It said he would also seek to get match funding for the pool from Sport England.
But the mayor was told the process of getting planning permission should continue for the Hartcliffe Way waste facility as this would potentially add value to the site.
It was recommended that during 2013/14 the council funds 20 PCSOs with the Avon and Somerset Police and Crime Commissioner funding 10.
Originally the council had planned to axe the 32 PCSO posts it currently pays for - saving £540,000 per year.
But the saving in 2013/14 would remain at that level but reached through the additional police contribution, plus cash from the council's housing revenue account.
In the housing sector the council said by reinstating proposed cuts to funding for bringing empty homes back into use it would also help reduce its costs related to homeless people.
Additionally it would look to make savings by seeking funding from initiatives such as the government's New Homes Bonus scheme.