Bristol's bus lane fines raise more than £1.5m for council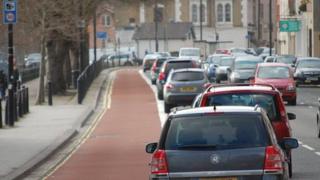 Bristol's motorists have paid more than £1.5m in fines over the past three years for driving in bus lanes.
Figures released to the BBC under the Freedom of Information Act show between January 2010 and January 2013, a total of 57,607 tickets were issued.
The RAC said the figures were a "cause for concern" and they suggested "something is not quite right".
However, the city council said they covered the period when drivers were getting used to the new restrictions.
In the same period, an average of 21% of drivers were successful at getting their tickets cancelled on appeal.
'Cash cow'
Pete Williams, from the motoring organisation, said motorists were "generally law-abiding" and "want to obey the rules of the road".
"[The fines] would suggest that something is not quite right - perhaps the road signage needs to be clearer or the road layout itself is causing confusion," he said.
"There's always the risk that they will lose the confidence of motorists or the local electorate if this is seen as a cash cow.
"For those drivers who genuinely have grounds for appealing a penalty charge notice and wish to do so, it is a worthwhile process," Mr Williams added.
A city council spokeswoman said the majority had been issued on the main bus corridors - Gloucester Road, Cheltenham Road, Bath Road and Fishponds Road.
'Massive annoyance'
"During the early period of enforcement the number of contraventions gradually increased as more and more cameras were added to the enforcement network," she said.
"[Now it] appears as if the enforcement is working and motorists are starting to comply with the regulations."
But Bob Bull, from the Alliance of British Drivers, said many of the bus lanes were "not properly thought through" and questioned the need for 24-hour bus lanes "when there wasn't even a 24-hour bus service in the city."
"Many of the bus lanes don't do the job they were intended to and cause confusion and massive annoyance to drivers," he said