Bristol tandem crash deaths suspect, 38, charged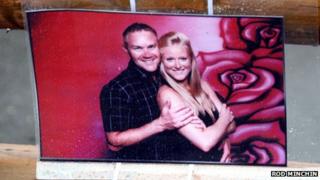 A man has been charged with causing the deaths of a couple who were knocked off their tandem bicycle in Bristol.
Nicholas Lovell was arrested following the deaths of Ross and Clare Simons in Hanham on Sunday.
The couple both died at the scene of the crash, where a candlelit vigil was held for them on Monday night.
Mr Lovell is due to appear before North Avon Magistrates' Court on Wednesday charged with two counts of causing death by dangerous driving.
Mr Lovell, 38, of West Street, Oldland Common, has also been charged with driving while disqualified, driving with no insurance and failing to stop at the scene of a collision.
The car allegedly involved in the crash was being followed by police at the time of the incident.
Avon and Somerset Police said an officer was alerted to a Citroen Picasso travelling along Lower Hanham Road, shortly before 16:00 GMT on Sunday.
The matter has been referred to the Independent Police Complaints Commission.
Speaking at the vigil, Mr Simons' sister Kelly Woodruff described her brother and his wife as "a magic couple" who were "made for each other".
She said: "As you can see by the numbers [here], everyone loved them and to be taken away from us is heart-wrenching.
"He was the best brother I could ever wish for and I don't really know how I'm going to live without him.
"I think, if you ask most people here, he probably fixed a roof or a car or done a garden or something for them out of the kindness of his heart.
"Clare was equally as special. She had a heart of gold... and I was privileged to have her as a sister-in-law and a friend."
The couple had been married for about 18 months. Friends said they had desperately wanted children and had just been given the go-ahead to start IVF treatment.