Famous menswear store closes doors for the last time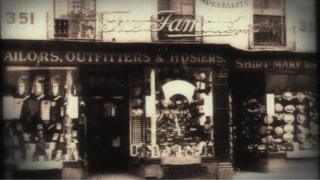 A menswear store in Cheltenham which has been trading since the late 19th Century is to close for the final time on Saturday.
The Famous, in Cheltenham, was opened by a London tailor in 1896 and bought by Mr A N Cole.
Richard Cole, a descendant of one of the first owners, said closing the store was sad but he wanted to continue the Famous brand online.
"It's a bit strange and will be odd when I lock doors later," Mr Cole said.
The store is closing down as the lease on the building, on the town's High Street, is too expensive.
"People got their first school uniform here and have now got their last suit here. They have been shopping here their whole life," Mr Cole added.
"It's tinged with a lot of sadness and I have been choked. I first came in here when I was just a few days old. But I'm pleased to be able to keep the name online."
Mr Cole said that he hoped the shop would make a return to the high street one day.