Bristol mayor: Respect's Neil Maggs releases manifesto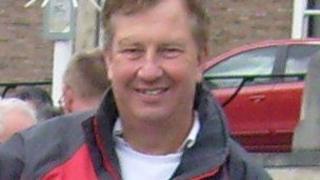 The Respect candidate for the Bristol mayoral election has pledged to fill empty houses and sort out transport issues if elected.
Neil Maggs has released his manifesto which states that he intends to "put people before profits".
He has said he will stand against all spending cuts, fight privatisation plans and "get Bristol back to work".
Twelve candidates have signalled their intention to stand for the city's first directly-elected mayor on 15 November.
Mr Maggs said: "It is wrong that we have thousands of empty houses whilst we have people on the waiting list and others are homeless."
'Transport disaster'
The 52-year-old accountant also wants to increase affordable housing on sites such as Westmoreland House and the Carriage Works in Stokes Croft, and the former New Fosseway School in Hengrove.
He wants to create a Direct Labour Organisation and bring work in house, including use of apprenticeships, to give employment back to manual labourers.
In terms of transport, Mr Maggs believes privatised bus and rail transport "has been a disaster" and needs to be under the control of the council.
He opposes the Bristol Rapid Transit scheme and bendy buses, and said a future option to solve congestion could be to bring back the Bristol Bus Company.
Mr Maggs' manifesto also includes a desire to see all schools under council control, council-run care homes and day centres remaining open, and a city arena "built by the people of Bristol, for the people of Bristol".
He said it would be "an honour" to be elected and promised he would not take a six figure salary but instead would "only accept the average working wage".
Election candidates announced so far are: Craig Clarke (Independent), Tim Collins (Independent), George Ferguson (Bristol First), Geoff Gollop (Conservative), Neil Maggs (Respect), Spud Murphy (Independent), Eric Mutch (Independent), Daniella Radice (Green), Marvin Rees (Labour), Jon Rogers (Liberal Democrat), Andy Thorne (Independent) and Tom Baldwin (TUSC).