Steroid users at Bristol needle exchange more than double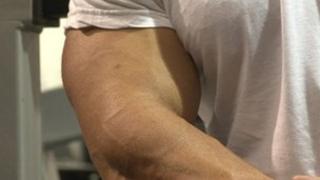 The number of anabolic steroid users visiting a Bristol needle exchange has more than doubled since 2008.
Figures from the Bristol Drugs Project, which runs the exchange, show that about 450 out of 950 people using it in the year 20011-12 injected steroids.
That is about 44% compared with 19% of needle exchange-users in 2008-09.
Maggie Telfer, from the project, said people were now using steroids as a quick fix to a "beautiful body" but damaging themselves in the process.
New laws were introduced in April to clamp down on steroid availability and tackle illegal supply.
It is illegal to import them for personal use using postal, courier or freight services.
Possession or importing with intent to supply is also illegal and could lead to 14 years in prison.
'Men grow breasts'
Ms Telfer put the rise in requests for syringes down to many online suppliers no longer including needles in the package.
But she said there had also been an increase in people using the drugs who would not have done so in the past.
"I think in more recent years perhaps younger people have been using steroids almost as a short cut to a 'beautiful body' rather than your more traditional steroid users who would be using it as part of a competitive sport cycle," she said.
"There's a lot of evidence now of some of the damage from longer term use; heart problems, liver problems, kidney problems.
"Men can grow breasts, it can make your testicles shrink, and for some people it can have quite a big impact on their mood.
"Particularly for younger people who are taking it as a short cut to look good... the consequences for them could be much more serious because they're not using it with the knowledge and rigour that people using in competitive sport have done."
Jim McVeigh, deputy director of the Centre for Public Health at Liverpool John Moores University, said the increase in users was not unique to Bristol.
"Over the last 20 years there's been a steady increase in the numbers of steroid users presenting to these services.
"In the last couple of years that has really stepped up and increased dramatically," he said.
"The media has probably played a significant part in how males are portrayed, expectations of how a stylised male body image should be.
"This is something females have had to experience for generations."
Mr McVeigh said his biggest concern was those injecting steroids.
"They are exposing themselves to all the risks associated with that including blood-borne viruses such as HIV, hepatitis B and C.
"Also, virtually all these drugs are sourced from the illicit market so nobody knows exactly what they're taking."
He said the Advisory Council on the Misuse of Drugs had recommended the enhancing of services for people injecting steroids.
But he said: "There hasn't really been a national drive to achieve these aims."