Westonbirt tree felled for Arnolfini exhibition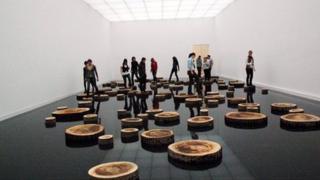 Remnants of a 150-year-old tree from Westonbirt Arboretum is to be the star attraction at an exhibition in Bristol.
The Forestry Commission, which runs the arboretum, said the Douglas fir had to be felled due to an invasive fungus.
It will be transported to the Arnolfini gallery on Bristol's harbourside to be part of an exhibition by artist Matti Braun in the autumn.
The 30ft (9m) tree was chosen by a team from the gallery during a visit to the Gloucestershire tree centre.
Westonbirt spokeswoman Katrina Podlewska said the tree would be cut up into "stepping stones", then a gallery on the first floor would be flooded and the pieces would be laid out.
Andy Jane, from the Forestry Commission, said: "As with all trees that have to be removed as part of the management of Westonbirt's tree collection, this historic Douglas fir won't be wasted.
"Westonbirt's trees go on to become a multitude of things, from woodcraft, tables and flooring to woodchip for the arboretum's paths, but this is the first time we have linked with a major art exhibition.
"We are all excited to see how the installation will look."
The exhibition will run between 6 October and 6 January 2013.