Hundreds flock to see long-billed dowitcher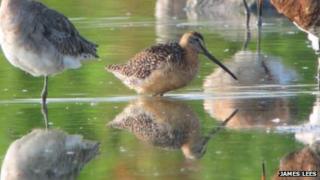 Hundreds of bird-watchers have arrived at a Gloucestershire wetland centre in the past few days after a rare bird was spotted there.
The long-billed dowitcher was first seen at Slimbridge by James Lees, the centre's reserve warden, on Saturday.
Mr Lees said it was the third long-billed dowitcher ever recorded in the county and the first in 28 years.
The birds, which hail from North America, often reach Western European coasts during their migration.
"Every year those sorts of birds are migrating so they're going from north down to the south," Mr Lees said.
"Depending on the seasons they bump into various different weather patterns.
"It's very easy for a bird to get shifted... if it made its trajectory just a couple of degrees off, over several thousand miles that could throw it a long way out of its range."