Body of boy recovered from River Avon in Saltford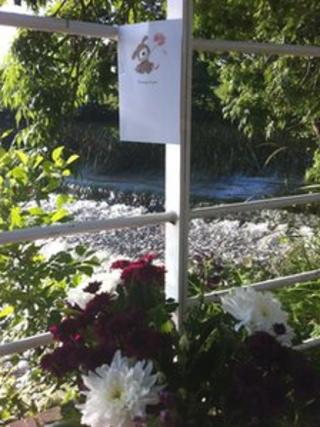 Tributes have been paid to a teenager whose body was recovered from the River Avon between Bristol and Bath.
The boy, named locally as Aaron Burgess, 14, was swimming near Saltford Weir when he got into difficulty and disappeared beneath the surface.
Police diving teams recovered a body, which is yet to be formally identified, at about 23:30 BST on Tuesday.
Flowers have been left at Saltford Weir and tribute messages posted on social networking websites.
One message by the Weir, read: "My beautiful 1st born son, always acting the fool, chip off the old block, missing you loads, see you when I get there, Dad x"
Another picture was simply captioned: "Thinking of you".
David Turrell, the executive headteacher of Sir Bernard Lovell School, where Aaron was a student, said the school was "deeply sorry" to hear of the tragedy.
"Our thoughts at the moment are with family and friends," he added.
'Happy-go-lucky boy'
"Aaron was a very enthusiastic, popular, happy-go-lucky boy who will be deeply missed at the school."
Mr Turrell also encouraged any students in need of support to visit Cadbury Heath Youth Centre.
Friends of the teenager have placed messages on Twitter.
Emma Sampson wrote: "R.I.P Aaron Burgess, you didn't deserve this! My thoughts are with your family and friends, you'll be missed."
It is understood that Aaron was among a group of about seven boys who had been using the weir as a slide.
Jesse Stroud, 14, was in the water with Aaron when he started to struggle to keep his head above the water.
He said: "He wasn't a very good swimmer and he just started to struggle and me and my friend tried to help him, but we just couldn't and then we went over to the bank and tried to call for help.
"He was quite a good friend and recently I had really been getting to know him. It's just a shock that he's gone. I just can't believe it, it's horrible."
The coroner has been informed.