Bristol Harbour Festival attracts 300,000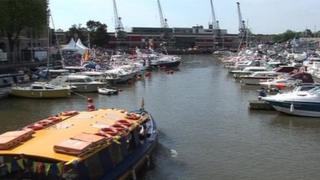 About 50,000 more people are thought to have attended this year's Bristol Harbour Festival than last summer's event.
Event organiser Mike Richmond said about 300,000 people attended the three-day festival and that the sunshine "made all the difference".
The festival went ahead despite half the team that organised the 2011 event being made redundant.
Budget cuts meant the council put the contract for the event out to tender.
Mr Richmond said: "Saturday saw probably one of the biggest attendances at the harbour festival and the weather has just made all the difference.
"People have been kind of waiting to come out to have a good time and it just so happens we had the lucky weekend."
The festival, in its 41st year, is said to be one of the biggest free events in the country.
The event was brought forward by a week, partially to avoid a clash with the London Olympics.