Rory McIlroy gives glove to boy hit by golf ball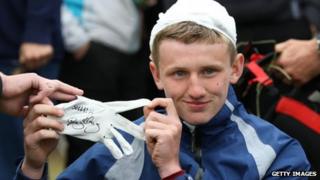 Rory McIlroy has signed a glove for a Bristol teenager who was struck on the head by a ball the golfer had hit.
Jason Blue, 16, received first aid treatment after the accident beside the 15th fairway at the Open Championship at Royal Lytham and St Annes.
The world's number two golfer apologised before giving him a signed glove with the word "sorry" on it.
Jason said the Northern Irish star was "quite apologetic" when giving him the souvenir on Thursday.
The teenager was given treatment at a nearby first aid point before being taken to the main medical HQ where he was seen by a doctor.
'What's hit me?'
He said: "I can remember something hit me in the head and I fell over.
"I thought what the hell was that? What's hit me? It must be a golf ball.
"We couldn't see the tee because everyone down the side had umbrellas up and so we had no idea it was coming towards us, even though they'd put their hands out on the tee.
"I closed my eyes with the shock of it as I tried to work out what had happened, but I wasn't out cold and then there was people crowding around me."
Some 200,000 visitors are expected to attend the 2012 Open Championship at the Lancashire golf club.
The event is estimated to be worth over £70m to the local economy, according to the county council.
It is the 11th time the tournament has been held at the Royal Lytham & St Annes.