Whiteladies Picture House campaign receives boost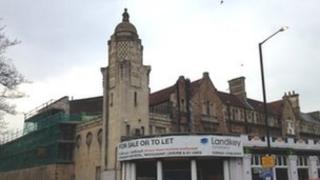 Campaigners hoping to reopen a derelict cinema in Bristol say their plans have been given a boost after a national cinema chain contacted them.
The Whiteladies Picture House closed in 2001 and supporters are hoping to reopen it as a cinema and arts centre.
They hope a partnership with the unnamed chain will help fund the cinema and provide newly-released films.
An online petition of more than 1,600 people called on the city council to support the restoration plans.
Separately city planners had recommended that an application for five flats and a gym on the site be accepted but at a meeting of the council's development committee last week they voted to defer the decision until their next meeting.
"Although a partnership with the cinema operators would help our dream, our plans for the building remain the same," supporter David Fells said.
"We want to have a 200-seater cinema upstairs and an auditorium which can hold 450 downstairs and this could be used as a live performance area or a larger cinema."
'Restrictive covenant'
The Grade II-listed building, on Whiteladies Road, was owned by Odeon, which ran it as a three-screen cinema before selling it in November 2001 - almost 80 years after it opened.
But when it was sold Odeon put a covenant on the building stating it could never be used as a cinema or for theatrical purposes.
The group had previously managed to have the covenant waived by Odeon bosses, who were persuaded the plans were not a threat to Odeon's other business interests in the city.
"We'll have to go back to Odeon now to reopen negotiations and if this comes off we hope to put a solid proposal forward before the next [development] committee meeting later this month.
"We'll continue our fight right up to the day the builders start work on the flats.
"A cinema and arts centre would bring a much-needed boost to the area - flats won't.
"More than 1,600 people have signed a petition supporting our plans.
"We really hope they [the council] will appreciate the heritage and the historic importance of the building and vote to reject plans for the flats," Mr Fells added.