Noisy dogs in high-rise flats in Bristol upset tenants
30 June 2012

From the section

Bristol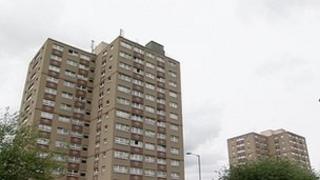 People living in high-rise flats in Bristol say there is more noise and mess from dogs after council rules were relaxed on tenants keeping pets.
The city council changed the policy two years ago - until then those living in council flats could not have animals.
The Local Government Ombudsman investigated the policy change after complaints from residents who were concerned about fouling and barking.
The ombudsman found that to deny people from keeping a pet was "unfair".
It also revealed that doing so may contravene the European Convention on Human Rights - which allows for the right to enjoy possessions and the right to a private family life.
Ken Pickles, who lives in a flat in Henbury, said: "You've got some owners who are not responsible and don't pick up the dirt behind them.
'Bark at everything'
"The other day we had it in the doorway here - left just inside the door - dog's muck. Why? Can't they bend down and pick it up?"
Zoe Quayle, who also lives in one of the Henbury flats, said: "People go out to work all the time. Obviously they don't take their dogs out enough. They basically bark at everything."
Liberal Democrat councillor Anthony Negus said: "We have a policy and a strategy in this city which is 'your home is your springboard for life'.
"People of every sort of tenure have a right to use their home. It's not a council property - it's their home.
"Everyone needs to be reasonable, and by and large people are reasonable. But when that goes wrong we have to do something about it."
He said the council could be tougher on those with noisy dogs but that it was limited by the current system.
He said the council was writing to the housing minister to ask for more powers to tackle nuisance neighbours.