North Somerset Council in court over youth cuts plan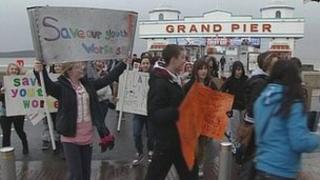 A 21-year-old man has begun his High Court challenge against North Somerset Council's proposed youth cuts.
The Conservative-led council will be defending its decision, at the hearing in Cardiff, to cut 71% of funding over the next three years.
Aaron Hunt claims the council has breached the Equality Act by failing to consider matters of disability, sexual orientation and race.
The authority said it would defend its decision but did not comment further.
In February, councillors voted through cuts of £14.4m for the next financial year.
Mr Hunt suffers from learning difficulties and has Attention Deficit Hyperactivity Disorder (ADHD).
He used to attend the Weston Youth Club on the Bourneville Estate but, since the changes, he now attends the youth club at Oldmixon.
Aaron's mother, Alison Hunt, said: "He keeps telling me it's like losing a big part of his family.
"It's just disgusting how they're treating the children, not just the disabled children - our children are our future and they're taking away from them."
The council earlier insisted it would continue to provide targeted youth services.
Union members and young people affected by the changes have held protests since the cuts were first debated.
So far, six youth groups have closed or are due to be closed.
According to the campaign against the cuts, local residents are also trying to organise activities and support as part of a bid to fill the shortfall in service provision.
The outcome of the judicial review is not expected to be announced for a few weeks.